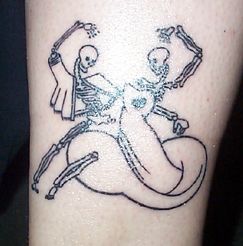 I'm proably going to come off as a crazed stalker fan for this, but when it came time for me to get my tattoo I wanted it to be something that was very personal.
Concrete Blonde has been a big part of my life ever since I heard them at the tender age of fourteen. They were the soundtrack for my teenage years

I'm quite impressed with the way the tattoo came out, and have already gotten many complements on it from people who don't have a clue where the image came from.